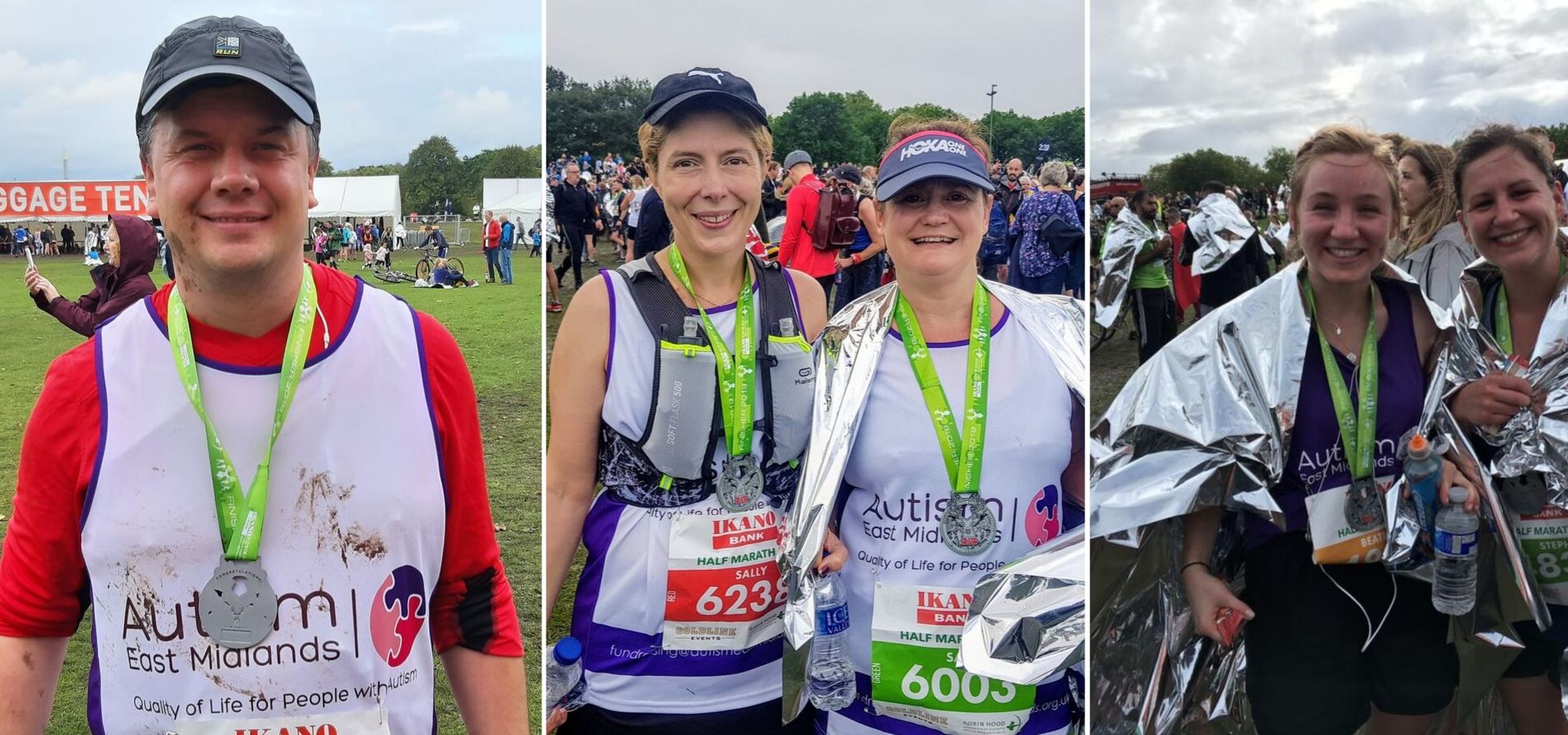 Team run the Robin Hood Half for Autism East Midlands!
September 30, 2019 1:07 pm - Categorised in: EFN-News
On 29th September 2019, a team from Ellis-Fermor and Negus ran the Ikano Robin Hood Half Marathon for Autism East Midlands.
The team (#TEAMEFN4AEM) included Robert Meredith who is a director at the firm, Sam Fryer from the firm's conveyancing department, Sally Hull who is a receptionist at our Long Eaton office, and Beatrice Lowry who is the marketing executive at the firm.
This year, the firm is supporting Autism East Midlands as part of its Charity of the Year scheme. The charity covers areas such as Nottinghamshire & Derbyshire in supporting families and individuals who live with autism. By providing specialised services, such as Flexible Days and Employment opportunities, the charity aims to give autistic people experiences of challenge and independence that can encourage them to make their own choices.
About Autism East Midlands
The charity provides opportunities for autistic adults, children and their families too. Did you know that 1% of the UK population are diagnosed with autism? This is around 700,000 individuals. Those affected by autism have a varied and diverse range of abilities relating to communication, social relationships, processing and senses. As a result, the services provided by Autism East Midlands are very specific to the needs of each individual.
As a firm, we are delighted to be able to support Autism East Midlands in their work by both raising awareness of the complex condition and by financially supporting the wide-range of services they provide. Events, such as The Robin Hood Half Marathon, are a brilliant way to raise the charity's profile locally with the additional benefit of improving our fitness as well!
The firm's director and Head of Conveyancing, has had personal experience of the support of Autism East Midlands. Rob Meredith comments,
"[Autism East Midlands] holds a special place in my heart because of how it helped my family. We attended one of the charity's parenting courses and learnt so much and certain skills we continue to use today. They do really important work and running the Robin Hood Half Marathon was a small way I could give something back to say thank you!"
Legal secretary, Sam Fryer also comments,
"Autism East Midlands have been really supportive while my son awaits his diagnosis. We are about to attend a support hub for parents which will be a massive help. This support hub will provide an opportunity to discuss similar issues and get advice whilst waiting for the diagnosis!  I just know that once we have the diagnosis we will receive all the help and support we need. A great charity to support!"
Find out more
If you would like to know more, the charity does an excellent job of educating the community and providing resources. For more information, visit their site by following this link:
https://www.autismeastmidlands.org.uk/about-autism/
It's also not too late to give. Our team page is available here:
https://www.justgiving.com/companyteams/EFN4AEM
Back to News