Moving Home
Conveyancing is the name for the legal process involved in buying and selling land. This includes the sales of residential houses and commercial office blocks from the smallest 1-bedroom flat to the largest skyscraper.
At Ellis-Fermor & Negus, we pride ourselves on providing a personal, high-quality, conveyancing service for both commercial clients and private individuals.  We want to be in direct contact with our clients and respond to their specific needs.
We don't use teams or call centres: all our files are dealt with personally by dedicated conveyancers.  That way, if there is a problem with the property you are buying or selling, it will be spotted straight away by someone with proper qualifications and experience.  Similarly, if you need to tell your conveyancer something, you can get in touch with the person who has control of your matter quickly and directly, without having to go through a telephone team.
We have offices across Nottinghamshire and Derbyshire, so for those living in the East Midlands, calling to see the lawyer handling your file could not be easier.  For clients further afield or unable to come into the office (or just plain busy), we are only an email or phone call away.
We are Conveyancing Quality Scheme (CQS) Accredited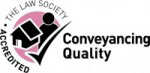 In 2011, the Law Society introduced the Conveyancing Quality Scheme, to which only the solicitors' firms with the very best practice standards are admitted.
This is the benchmark of high-standard residential conveyancing service, and some mortgage lenders (most notably Santander and HSBC) will only use CQS-accredited solicitors' firms.
To find out more about the scheme, and the standards you can expect, visit the CQS website
Click below to download our complete conveyancing service leaflet for more information.
The Complete Conveyancing Service
Residential Conveyancing Fees Calculators
Belper
Ripley
Beeston
Long Eaton
What your conveyancer is doing for you
Click below for copies of our information booklets which cover the work that we do for you, as well as information about things you should be considering/looking out for in the process
Buying and selling property – what your conveyancer is doing for you