Buying and selling property can be a complicated process. Learn more about what your Conveyancer is doing for you.
A 'Conveyancer' is the term for a legally trained Solicitor, Legal Executive or trained legal professional who deals with the purchase or sale of a property on your behalf.
What does a Conveyancer do?
Below you can download free copies of our guidance booklets which outline how your Residential Conveyancer can assist you. They also provide important information to be aware of throughout the purchase and sale process:
Buying a property Selling a property
Our Conveyancers are Conveyancing Quality Scheme (CQS) Accredited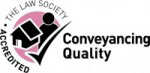 This is the benchmark of high-standard residential conveyancing service, and some mortgage lenders (most notably Santander and HSBC) will only use CQS-accredited solicitors' firms.
To find out more about the scheme, and the standards you can expect, visit the CQS website
You can also download our complete conveyancing service leaflet for more information about our services:
The Complete Conveyancing Service