Nottingham solicitors honoured for helping to secure vital charity funds
September 25, 2015 10:35 am - Categorised in: Charity Services, EFN-News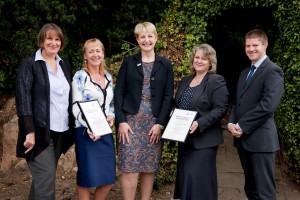 Two Branches of Ellis-Fermour & Negus solicitors' firm have been recognised by Cancer Research UK after facilitating over £1million worth of gifts from people choosing to support the charity through their Wills.
Joanna Bridges, Alison Forrest, Jacqueline Lewis and Jonathan Potter of Ellis-Fermour & Negus of Beeston and Long Eaton branches were presented with special certificates to acknowledge the support.
Cancer Research UK relies heavily on people leaving gifts in their Wills to continue its life-saving work. Over a third of its research into finding better ways to treat, diagnose and prevent cancer is funded through legacy giving.
The charity's Regional Legacy Manager for East Midlands, Lisa-Jane Gooden explained: "We all reach a stage at some point in our lives when we start to look ahead and consider what will happen to our financial affairs when we're no longer around.
"At Cancer Research UK we work with a number of local solicitors to offer a free Will service to anyone aged 55 or over, enabling individuals to make an all-important first Will or update an existing Will.
"The service is becoming more and more popular and while it is provided free of any obligation, the vast majority of people choose to leave a gift to the charity as they appreciate the progress we are making and our absolute determination to keep more families together for longer."
Ellis-Fermour & Negus has been partnering with Cancer Research UK Free Will Service for some time now, and throughout this time it has enabled many people to fulfil their wish of remembering the charity in their Will.
Cancer Research UK's Regional Legacy Manager, Lisa-Jane Gooden added: Joanna, Alison, Jacqueline and Jonathan might just tell you that they are only doing their job in helping people to plan their affairs and support the charity of their choice. But it goes far beyond that.
"The firm has become well informed about Cancer Research UK's work and is very supportive of the progress we are making. Whenever their clients express a desire to support us, Ellis-Fermour & Negus staff act with great sensitivity as they explain the various options and allow individuals or families to make the right choice in their own good time.
"It's quite astonishing to think that by simply combining enthusiasm with the highest professional standards Ellis-Fermour & Negus has helped secure over £1million worth of legacy gifts in the last year alone, which will go a long way towards helping our scientists, doctors and nurses bring forward the day when all cancers are cured."
Research has been responsible for saving nearly 520,000 lives in the UK since the 1980s and as the advances accelerate, Cancer Research UK is already laying the foundations for the next generation of cancer treatments that will save millions of lives worldwide.
Progress in research has seen survival rates for children's cancer more than double since the 1960s and men with testicular cancer having close to a 100 per cent chance of beating the disease. And women diagnosed with breast cancer are now twice as likely to survive their disease as those diagnosed 40 years ago.
Back to News