Jericho Road Project registers with the Charity Commission
March 8, 2012 12:06 pm - Categorised in: Charity Services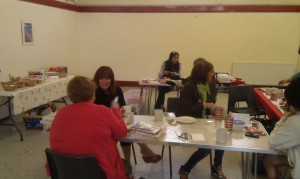 Nottinghamshire Charity, Jericho Road Project (JRP) have begun a new chapter in their history by registering with the Charity Commission as a Charitable Company. The Project, which has been operating in Nottinghamshire for over 10 years, seeks to help those involved in the sex industry by providing practical advice and support in order to enable women to be restored to work and family life.
Ellis-Fermor and Negus' Charity Team were delighted to have been involved in the legal work which brought the project to fruition.
Solicitor, Ben Bourne, from our charity team, provided legal advice to the JRP team on setting up the Charitable Company.  Ben commented "We were thrilled to advise JRP who are a tremendous local charity bringing real relief and hope to those suffering in desperate situations."
JRP, a Christian organisation, operates a twice weekly outreach to women on the streets and has set up a Life Centre where clients receive advice and care. The charity also visits clients in Prison and has set up an exciting new venture "Wonderfully made" where clients have been developing their own range of handmade goods.
In the last 12 months over 110 women have been helped by the project, of which 76 were seen during outreach, 45 visited the project's base and 21 were visited in prions. During outreaches 348 individual meetings with clients took place.
Chair of the project, Kay Wainman commented "The charity registration has taken JRP to the next level in its journey and we are excited to see what the future holds".
If you are interested in finding out more please visit the Jericho Road Project website at www.jerichoroad.org.uk
Photos:
An afternoon in Jericho Road Project Life Centre where food is available and staff and volunteer team are engaged in creative workshops for women to join in with (June 2011)

A Jericho Road Project volunteer event to thank members of the team for their crucial role in allowing the work to continue and for their on-going commitment and kindness. (May 2010)
Back to News