Heritage Church Preston Registers with the Charity Commission
November 12, 2012 1:24 pm - Categorised in: Charity Services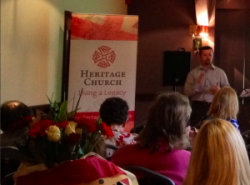 Start out church, Heritage Church Preston (HCP) have registered with the Charity Commission as a Charitable Company Limited by Guarantee. HCP, a sister church of Mobberly Baptist Church Texas, has been set up by Jason and Nicola Greene who have returned to the UK after 13 years in America.
Ellis-Fermor and Negus' Charity Team were delighted to have been involved in the legal work which brought the project to fruition.                      
Solicitor, Ben Bourne, from our charity team, provided legal advice to the HCP team on setting up the Charitable Company.  Ben commented "We were so pleased to be contacted by Jason and Nicola after hearing about the big step they were taking in coming back to the UK to set up a church here. We were excited to catch the vision of what they hope to achieve in setting up in the UK."
Chair of the project, Jason Greene, commented "It's been a pretty hectic time in moving over from States and starting a work here but we're excited to see what the future holds".
If you are interested in finding out more please visit the Heritage Church Preston website at www.heritagepreston.co.uk or follow Jason on Twitter at @HeritageChurchPreston.
Photo : Jason Greene

Ellis-Fermor & Negus are specialists in Charity Law. Do you have a charitable idea or an organisation that requires registration at the Charity Commission? Contact Ben Bourne or Simon Hale at our Beeston Office for advice on 0115 922 1591.
Back to News