Local Solicitor wins UK Finance Monthly Deal Makers of the Year 2012
December 18, 2012 12:30 pm - Categorised in: Commercial Law, EFN-News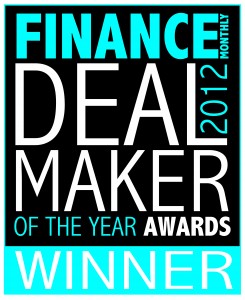 Corporate Mergers & Acquisitions Lawyer, Murray Macnab, has been awarded a prestigious Finance Monthly Deal Makers of the Year 2012 UK award, recognising his key role in the sale of the NDT Services Ltd group to a FTSE 100 company.
Intertek Group plc, the leading international provider of quality services to a wide range of industries, acquired Materials Testing & Inspection Services Limited and its operating subsidiary NDT Services Limited (NDT), a provider of non-destructive testing services to the energy, petrochemical, power and aerospace industries.
NDT's non-destructive testing is used by companies to assess the integrity and reliability of a range of industrial components being manufactured or on installations. NDT helps clients to identify flaws or defects in aircraft, pipeline, power station, refinery and oil platform components to assess their projected lifespan in order to reduce the risk of failure and disruption to operations.
Murray Macnab, who advised NDT's group shareholders from the start of the deal says "I've enjoyed working with Graham Tomlinson, and his Management Team on strategic projects, including acquisitions, over many years. It was great to be able to guide and support him on this transaction given its significance to him and its importance in the industry. A crucial input was to adopt the right approach to the deal and project-manage the legal input in a way that best fitted with the objectives and expectations of the vendors."
Murray Macnab is a well-established Corporate Lawyer having completed 9 deals in the last year and been in the industry for over 20 years. In addition to corporate deals, he has a strong record in completing strategic contracts, often involving IT or other technology, and offers a personal, professional and efficient service. His firm, Ellis-Fermor & Negus has offices spread across Derbyshire and Nottinghamshire, with Murray dealing with clients across the Midlands.
"We provide a tailored bespoke service to our clients", says Murray, "all clients have differing needs. By taking a holistic view of a client's requirements we ensure success. It is great for this region to have the deal recognised nationally and I am very thankful for the efforts of the team that worked with me on this".
Back to News