World Record attempt for EFN client
December 1, 2014 1:44 pm - Categorised in: EFN-News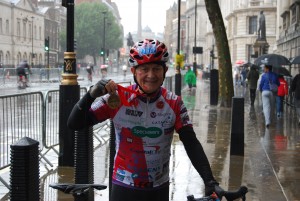 Nottingham's Arran Linton-Smith is aiming to break a world record this year, for having the most company logos on a single piece of sports clothing.
Arran cycled through heavy wind and rain to compete at the Prudential RideLondon-Surrey 100 event back in August.
Arran had 110 logos on his cycle jersey, 21 more than the previous record of 89 which was set by a mayor in Australia. But Arran's world record attempt was put at risk by ex-hurricane Bertha which struck shortly before the start of the race and led to event organisers cutting the route short by 14 miles. Despite sustaining injuries to his face and shoulder when he collided with another rider half-way through the race, Arran was undeterred and managed to complete the race in 3 hours and 50 minutes.
Arran launched his world record attempt in April to raise money for The National Autistic Society (NAS). Ever since he's spent all his free time approaching businesses and organisations to advertise their logo on his shirt and to make a small donation to the NAS, raising almost £4,500 so far.
Arran has received support from Nottingham organisations like Beeston Fitness and Nottingham Trent University to household names like Specsavers and Capital One.
Arran, who has a senior management role at Interserve Construction, said: "It was a shame that the event had to be cut short but the conditions were so dangerous. I'm just pleased I was still able to break the world record and support a charity so close to my heart.
"But the world record is not just about fundraising; it's my way of getting people to talk about autism and to challenge the public's perception of the condition. People with autism face certain difficulties communicating and relating to others but they also see the world in a unique way and have so much to contribute to society."
Ben Bourne of Ellis-Fermor & Negus was delighted to help Arran in certifying his world record attempt.
Back to News