Solicitor Grace Steele takes her expertise on inheritance planning to expanding firm
September 15, 2015 1:51 pm - Categorised in: EFN-News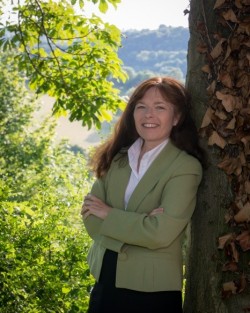 Ellis-Fermor & Negus are delighted to welcome Grace Steele, as a new Private Client Director, to the firm. Based at the Belper office, Grace brings over 25 years' experience of working in the specialist area of wills, probate, powers of attorney, trusts and inheritance tax planning.
"I'm thrilled to be joining the team at Ellis-Fermor & Negus! It's a very friendly, approachable firm with a great ethos." says Grace, who is moving from a large corporate legal practice to offer the bespoke, face-to-face service that she likes to provide for clients.
Grace has always practised within the Derbyshire and Nottingham area, establishing an enviable reputation due to her knowledge, hard work and diligence. She has a large local and national client base, and looks forward to welcoming new clients to Ellis-Fermor & Negus too. "Every family and every situation is different," explains Grace, "so I concentrate on really getting to know and understand clients and their family set-up, managing their expectations of how they'd like to leave their estate and advising them on the most tax-efficient ways of maintaining and passing on their wealth. Many of my clients have been with me for years."
Having specialised in this particular area of law throughout her career, Grace is highly qualified – she's also a Chartered Tax Adviser. "I call myself a 'lawyer with an added specialism'!"
It is clear from talking to Grace that she is incredibly passionate about what she does, not only on the legal side of things but the personal element too. "I love being able to help families by being their trusted adviser. I offer honesty and support, calling on my experience to give clients the confidence to make decisions, helping them to be as prepared as they can be for the loss of a loved one, and avoiding problems or difficult situations." To facilitate this, Grace offers a flexible service, meeting clients in her office or visiting them at home in order to accommodate their needs.
Grace adds "Ellis-Fermor & Negus is a firm that is looking to the future, which is why I was keen to join them. I'm here for the long-term and, with the support of an excellent team, I'm looking forward to offering clients old and new the high level of personal service that they deserve."
Contact Grace Steele at Ellis-Fermor & Negus on 01773 307362 or 07562 398394 or email grace.steele@ellis-fermor.co.uk.
Back to News