Lawyers who qualified together and worked for Ellis-Fermor & Negus are now set to stand down
June 22, 2015 10:36 am - Categorised in: Wills, Trusts & Probate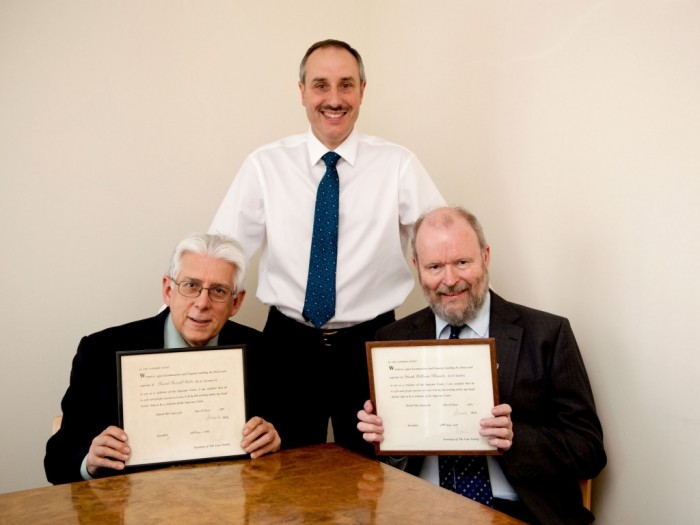 L-R David Wells, Simon Hale (Director) & William Skinner
TWO solicitors who qualified on the same day and decades later worked for the same legal firm with offices in Nottinghamshire and Derbyshire are set to retire after 40 years.
William Skinner and David Wells are currently both consultants for Ellis-Fermor & Negus at Beeston, though both have trod different paths in their career since qualifying on June 16, 1975.
That was the day when they received certificates signed by Lord Denning, Master of the Rolls – one of the most ancient and highest judicial offices – at the Law Society's Hall in Chancery Lane, London.
David started his career in Newark and then worked in Uttoxeter and Cardiff before joining Ellis-Fermor & Negus  in1979, working from the Beeston office ever since. Initially he did property, wills and probate and occasionally appeared in magistrates courts, For the past 15 years he has dealt with residential and commercial conveyancing and charity law.
During the miners dispute of 1984/5 he appeared at the High Court in London on a Saturday to represent the practice dealing with a branch of the National Union of Mineworkers.
"That remains firmly in my memory because it was so unusual," said David. "I don't think the High Court has sat on a Saturday since."
David, who lives in Wollaton, is an active member of Stapleford Baptist Church. He has served for many years as director and secretary of the Chinese Overseas Christian Mission and is chairman of the Friends International Development Group in Nottingham.
William started with Sale and Son in Derby until after the company merged with Edwards Geldard. He then took up a position with Chambers and Hynd in Stapleford, becoming a partner in 2005. The firm was acquired by Ellis-Fermor & Negus in 2012.
William said: "I have done about everything in my career – criminal cases, matrimonial and family, civil litigation including accident cases and latterly wills and probate."
He is a member of St Helen's Church, Etwall and of the Prayer Book Society and was secretary of Longford Deanery Synod for 17 years. A lifelong Derby County supporter, he has been a season ticketholder for 35 years.
Both David and William will retire early in July, with their work being taken on by other colleagues –  Emma Mrvik and Giles Tyas in the case of David, and newcomer Jonathan Potter succeeding William.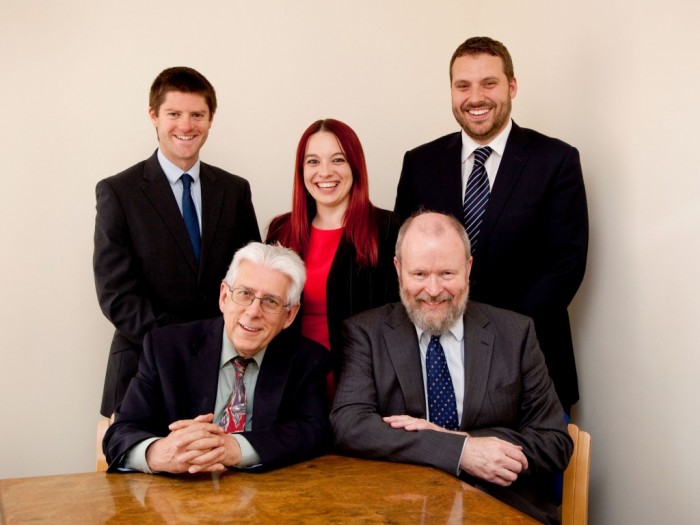 L-R Jonathan Potter, David Wells, Emma Mrvik, William Skinner & Giles Tyas
Director Simon Hale said: "It is with considerable sadness that we are saying goodbye to these long-time servants of the community and legal profession.
"Although we will miss them we are delighted that they are passing on the batons to extremely competent young replacements."
As well as Beeston the company has offices in Long Eaton, Ripley and Belper.
Back to News