David Negus celebrates 40 years at Ellis-Fermor & Negus
May 12, 2012 9:21 am - Categorised in: EFN-News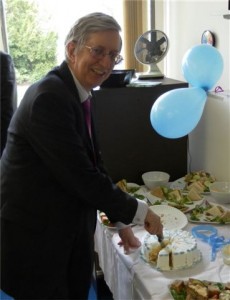 Long Eaton based and highly regarded solicitor David Negus is celebrating 40 years as a qualified solicitor, almost 38 of them with East Midlandsfirm Ellis-Fermor & Negus.
David was admitted as a solicitor in April 1972 and joined what was then Ellis-Fermor & Shephard in September 1974. Since then he has seen considerable change in the legal landscape both nationally and locally, where his firm has grown from one of the smallest to amongst the largest, now having four offices with over 66 lawyers and support staff.
Some of the most noticeable changes have been in the coming of information technology.  Reflecting back to his arrival at the firm David observed "there was only one electric typewriter and no computers!  In fairness nobody else had computers at that time either.  When I installed our first one in 1981 we were the earliest firm in the area to embrace the future. Any solicitor qualifying today would consider it unthinkable to be expected to work without a computer, word processing and emails".
A surprise buffet was organised to celebrate David's achievement by his Long Eaton colleagues and senior staff from across the firm, at which he was presented with an engraved pen to mark the occasion.
David has had a varied and at times high profile career.  He now specialises mainly in company, commercial and town planning work, but continues to deal with some litigation.  As one of the relatively few solicitors qualified to appear in the High Court as an advocate in civil cases, he still enjoys the cut and thrust of the courtroom where he established his early reputation.
His most prominent cases were in leading the legal team that established the right of the Nottinghamshire miners to work on in the national strike of 1984/5 in the absence of a democratic ballot, but he has also handled several high profile ecclesiastical cases including one before the Privy Council, and an appeal to the Divisional Court that established the correct route for appeals in divorce proceedings.
Outside work David is a member of the PasturesCommunityChurch, Stapleford.  He is a longsuffering supporter of bothDerbyCountyFCand Derbyshire County Cricket club and has a lifelong interest in steam trains and rail travel.
David commented " As I look back on forty years a Solicitor, in the most part with Ellis-Fermor & Negus, I feel privileged to have worked in a firm that I believe enjoys one of the best reputations in the area.  I have worked alongside some wonderful people and been extremely fortunate to have a career I still enjoy and have from the very beginning".
If you have a legal matter which David Negus may be able to assist you with, please contact him at our Long Eaton office on 0115 972 5222 or email d.negus@ellis-fermor.co.uk.
Back to News