Firm of solicitors steps in to rescue another and save half the jobs
March 28, 2012 7:00 pm - Categorised in: EFN-News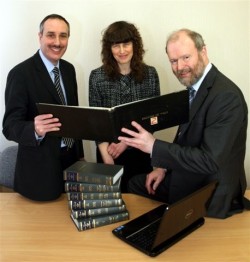 Two legal firms, both more than 100-years-old, and based on the border of Derbyshire/Nottinghamshire have joined forces.
Ellis-Fermor & Negus have stepped in to acquire the assets of Chambers & Hind, which was set to close, and although its Stapleford base will close on Friday (March 30) half the jobs have been saved.
Chambers & Hind started in Bath Street, Ilkeston, in 1875 and set up its Stapleford office in Derby Road in the 1920s. The Ilkeston office closed in 2008.
Ellis-Fermor & Negus can trace its roots back to when it was set up by Ernest Ellis-Fermor in Ripley Market Place in 1893. It also has offices in Devonshire Avenue, Beeston; Derby Road, Long Eaton; and last year opened an office in Bridge Street, Belper. It employs 60 people.
Chambers & Hind employ 10 people. Under the takeover, partners William Skinner and Helen Prins plus four staff will move to Long Eaton.
Simon Hale, a partner with Ellis-Fermor & Negus, said: "We had already heard that Chambers & Hind were planning to close because of the difficult economic climate with the loss of all jobs.
"So we were keen to rescue what we could of the business which has resulted in saving as many of the jobs as possible.
"We are delighted to welcome William and Helen and their team to Long Eaton. They have a great reputation. Their experience will add to our practice.
"We did not wish to lose 137 years of trading history and service to the community. By linking up we can continue to provide that service.
"We realise, particularly for long-standing clients, that trust and continuity is valuable. We are happy to be playing our part in preserving that. Clients know that their wills, deeds, files and business records are safe, having been transferred.
"We would have liked to have taken over the Stapleford premises, but the cost of modernisation of the old building was too expensive."
"William said: "We are happy to be joining Ells-Fermor & Negus and look forward to the future."
From April 10 the firm will be called Ellis-Fermor and Negus (incorporating Chambers & Hind).
For further information contact Simon Hale on 0115 922 1591
Back to News