Ellis-Fermor & Negus make a charitable donation to The Belper Cottage Project
June 26, 2012 10:18 am - Categorised in: EFN-News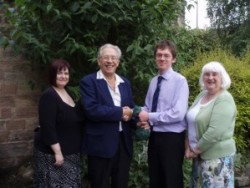 Local solicitors, Ellis-Fermor & Negus, are celebrating the 1st anniversary of their Belper office by donating £366, one pound for every day the office has been open, to local charity The Belper Cottage Project.

Ellis-Fermor & Negus opened the Belper office last June, bringing to the town their reputation of over 100 years of legal service in Amber Valley together with an up to date and innovative approach to handling legal issues.
Richard Whiteley, Associate Director, said: "The Belper community has welcomed us in, so we decided we wanted to give a bit back to mark our anniversary.  Pat Sallis [family law solicitor with Ellis-Fermor & Negus] proposed the Belper Cottage Project, as they work so hard to provide a facility which everyone in Belper (especially separated families) can use, so we were extremely pleased to support their work."
The Belper Cottage Project was established to provide an informal, welcoming and friendly place for people to meet.  They have meeting rooms of all sizes, which can be hired by individuals or organisations and a quiet room, which is suitable for counselling individuals or families.  The Project also fulfils an invaluable role as a Child Contact Centre, providing a safe, confidential, professional and caring environment for separated families to be able to enjoy spending some positive time together.  The Centre is run by volunteers, and is accredited to the National Association of Child Contact Centres.
To discuss any legal matter, please contact Ellis-Fermor & Negus on 01773 821 665, or call into the office on Bridge Street.  If you would like to discuss the facilities provided by The Belper Cottage Project please call 01773 880 364.
Photo (L-R) Mrs Tracey Wells-Lomas (Contact Co-ordinator), Mr Alan Cox (Treasurer), Richard Whiteley (Associate Director with Ellis-Fermor & Negus) and Jackie Cox (Chairperson).
Back to News